YouthQuake magazine: FRONT PAGE | MUSIC | FILM | AUTHORS | ACTORS | MODELS | ABOUT
---
The ever-entertaining world of Warren Cuccurullo,
musician-at-large

By Cyndi Glass




May 27, 2004

When you know Warren Cuccurullo, the best philosophy is to expect the unexpected. A musician to the core, he's always trying new things, never content to coast or stay in one spot long enough to be categorized. His music will draw you in with pure emotion that needs no lyrics to be expressed, and the more you get to know about him, the more colorful and intriguing he becomes.

Despite his habit of unabashed self-expression (not to mention the "Rock Rod"), the general public probably doesn't recognize his name unless they're a Zappa fan or a Duranie. Yeah, as in Duran Duran – during his 15 years in the band, he co-wrote the hits "Ordinary World" and "Come Undone." Who is Warren? Come along as we take a look at a man who doesn't look old enough to have had this much fun.

Warren's personal life

Born into an Italian, Catholic family in December 1956, Warren Cuccurullo grew up in Brooklyn, N.Y., and began playing guitar when he was 9. During high school, Warren played in local bands, gave guitar lessons and traveled to any Frank Zappa concert within 500 miles of Brooklyn. His career began in December 1978, becoming a nonstop whirlwind of touring, recording, writing and fun.

Warren's parents were always very supportive of their son's talent and career. In September 1997, the Italian city of Nocera Inferiore, his father's birthplace, invited them to a ceremony honoring Warren's musical accomplishments. This was all the more special because in just a few months, his father would pass away.

Warren has invited fans into his personal life in ways not many celebrities are comfortable with, and there isn't much we don't know. Now that he's no longer in a band, he's enjoying the chance to kick back and relax for the first time since his teens. He loves to travel the world for pleasure, read, watch movies and create music at his own pace to be released on his website. In 2002, he and two partners bought an Italian restaurant, Via Veneto, in Santa Monica, Calif., making it even more successful than it had been. After spending periods of his life in Los Angeles, London and Rio, he has returned to make his home in the Los Angeles area with his fiancée, Donna.

Frank Zappa (1978-1980)

First, the music. Let's go back to December 1978, when Frank Zappa phoned Warren at home. Only 22 at the time, Warren was invited to come to Los Angeles and audition for Zappa's band. His main job would be to play rhythm guitar with two other guitarists for Frank to solo over. The tour was a four-month stint in Europe and Asia. Some of Warren's work on this tour has been released on the Zappa albums "Tinseltown Rebellion," "Shut Up & Play Yer Guitar" and "You Can't Do That On Stage Anymore" (vols. 1, 4, and 6).

In summer 1979, the band returned to Los Angeles, and Zappa began work on the "Joe's Garage" albums. Warren played all the rhythm guitar and did some vocals, on top of being immortalized in several song lyrics. Warren began to write songs with his new friend, fellow "Joe's Garage" performer Dale Bozzio.

Missing Persons (1980-1986)

Even though Warren was in Duran Duran for a longer period of time, he has called Missing Persons "the child that we created." This creation took place in January 1980, when he and Dale officially formed the band with Dale's husband, ex-Zappa drummer Terry Bozzio. Warren's father financed the recording of a four-song, self-titled EP. Almost immediately, they appeared in the movie "Lunch Wagon." The song "Mental Hopscotch" became the No. 1 song of 1981 on Los Angeles radio station KROQ. Although the band sold 7,000 copies of their EP through relentless self-promotion, it took two years of side jobs and concerts before they were finally signed to Capitol Records in March 1982.

Capitol re-released the "Missing Persons" EP, which sold 250,000 copies, followed by the hit album "Spring Session M," which reached No. 17, going gold, in 1982. The band achieved awareness in the public mind chiefly through Dale's self-made provocative outfits, which unfortunately overshadowed the experimental and provocative music. The band ended 1982 on a promising note, playing to a sold-out crowd of 18,000 at the Long Beach Arena on New Year's Eve. Most people still remember the songs "Words," "Destination Unknown" and "Walking in L.A."

Though they had great success in southern California, including an appearance at the May 1983 U.S. Festival and some nationwide radio airplay, the band never achieved the commercial success they had dreamed of. Two more albums were released, but in 1986, Terry and Dale Bozzio's marital problems proved too much for the band. Missing Persons was over.

Duran Duran (1986-2001)

Almost immediately after the breakup of Missing Persons, Warren began contacting Duran Duran after finding out their guitarist, Andy Taylor, was planning to quit. He was brought in to play some of the guitar lines on their new album, "Notorious," and on their next album, "Big Thing," he played nearly all of the guitar. Throughout this period, he was featured in three music videos and was their hired guitarist for two world tours. In June 1989, Duran Duran announced that Warren had become a full and equal member of the band.

Their next album, "Liberty," signified a shift into a harder-edged, more adult sound, and Warren truly made his mark. Recording sessions for "Duran Duran" (aka "The Wedding Album") took up most of 1992. The first single, "Ordinary World," became Duran Duran's first major hit in years. The band recorded an episode of "MTV Unplugged," which aired in late 1993. For this performance, Warren completely re-arranged the songs for a six-piece string section, percussionist, drummer, pianist and two backup singers in addition to the four members of the band. The albums "Thank You," "Medazzaland" and "Pop Trash" followed, along with tours for each album and appearances on VH-1's "Behind The Music," "Hard Rock Live" and "Storytellers."

In May 2001, ending months of speculation by fans and rumors of Duran Duran planning an "original five" reunion, Warren announced that he was leaving Duran Duran. A few days later, Duran Duran issued an announcement confirming their reunion plans. Warren performed three final shows with the band in Japan in June 2001 and has worked out a settlement with the band in which he receives a financial cut of their reunion album without having to participate. In late 2003, thanks to the efforts of his fans and Duran keyboardist Nick Rhodes, he received an MTV Lifetime Achievement Award for his work with Duran Duran.

Missing Persons reunites ... and reunites again, sort of

Stirrings had been heard of a Missing Persons reunion as early as 1994, and Dale Bozzio had been performing shows on her own for years. In 1998, Warren released the first album in a Missing Persons archival trilogy: a live concert album called "Late Nights/Early Days" (recorded in 1981). Next was "Remixed Hits," which featured a TV Mania remix of "Destination Unknown." One Way Records re-released the three Missing Persons albums on CD, sparking interest among the fans and in Warren himself. Talks began with Dale Bozzio in December 2000. In preparation for the third album of the trilogy, Warren also began searching in earnest for a long-lost tape of some very early MP material that had never been released.

Warren, Dale and Terry – the original members of Missing Persons – reunited for a three-show stint in July 2001, culminating in a fan meet-and-greet/signing, a live chat on Lycos, several high-energy live performances and the release of the third album in the trilogy, "Lost Tracks," which combined rehearsal recordings from 2001 with live/unreleased tracks from four other eras of the band. Shortly after that, Terry left the band, and Dale soon followed to resume her solo shows. However, in November 2002, Dale and Warren surprised fans again with a live Missing Persons performance on the show "Access Hollywood," followed by three more live concerts in February 2003. Will it ever happen again? Missing Persons fans have learned … never say never.

Musicandsex, part 1: the musical collaborations

In 1986, Warren played on an Epidemics album. Following the Duran Duran 1988-89 tour, he enjoyed a brief stint as a tour guitarist for Japanese pop star Tetsuya Komuro. Warren has also played on a few albums by new age artist (and fellow MP alum) Patrick O'Hearn, as well as bassist Nick Beggs.

During some Duran Duran downtime in the early '90s, Warren and Nick formed a partnership/band called TV Mania, which they labeled "social junk culture triptych opera." More than 60 songs were recorded, and although some songs were reworked for the most recent two Duran Duran albums, Warren hopes for an official release someday; some of these songs can be downloaded on Warren's website. Warren and Nick also started a company called Lo-Fi, for which they wrote and produced songs for other artists, including Blondie.

In May 2004, Warren's unique guitar sound could be heard on Casino Mansion's new CD. If you'd like to hear his most recent work, check out the song

"

On The Skin

"

–

available as a free mp3 download at Warren's website.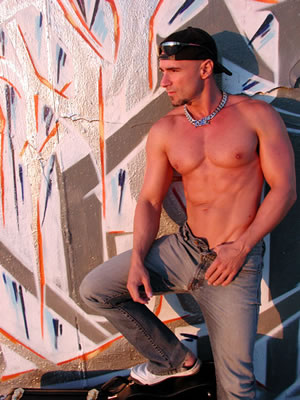 Warren Cuccurullo at the Graffiti Wall, Venice Beach, Calif. © 2001 www.musicandsex.tv. Photo by Mariko Catherine.
Musicandsex, part 2: the body
You can't be a Warren fan very long without realizing that Warren has made a science out of keeping his body in shape. As friends say, he is an extremist, and this is the case for his health and bodybuilding as well. For many years, he was a vegan, also shunning alcohol, cigarettes, drugs and even caffeine, sugar and dairy products. A mind-blowing array of vitamins and supplements traveled with him on the road, and he found a gym in every city for his demanding workout schedule. While he now drinks wine and has eased back into a more normal diet, you can't deny that he looks remarkably great for a man of his age.
Also, after wearing various "rock star" wigs for years, he joined the proudly-bald camp in 1998 and never looked back. And, oh yeah ... speaking of the body ...
Musicandsex, part 3: the sex
The last thing you could call Warren is "conventional." As early as his teenage days in Brooklyn, he was performing in the chorus of the "Rocky Horror Picture Show." He showed up onstage in drag at Zappa concerts regularly enough to be nicknamed "Sophia Warren," and in 1983 he was featured in "Playgirl Magazine." In the late '80s and early '90s, he hosted "Privacy Parties" in the nude during Duran Duran's tours. Fans quickly got used to Warren being someone who might say or do anything, someone for whom no sexual topic was off limits. After the 2000 Duran Duran tour concluded, Warren vacationed in Rio for a few weeks, where he was photographed nude and fully erect for "G Magazine," a Brazilian gay magazine.
When he left Duran Duran, he made a deal for the production of his own self-modeled adult toy, the "Rock Rod," which is now available through California Exotics. His website became a vehicle for self-expression in
many ways, but the most infamous is that he filmed adult videos featuring himself with various fan volunteers and porn stars, as well as interviews conducted while he showered. Upon becoming engaged, Warren decided to stop production of these videos and has now taken them offline.
Musicandsex, part 4: the solo music
In 1986, Warren began working on what would become his second solo album, "Machine Language." During Christmas week in 1993, Warren went to the United States for a family visit and joined his brother's band at a small lounge in Long Branch, N.J. Several Zappa songs and Duran Duran songs, as well as a song that would eventually become "Thanks to Frank," were performed. A few months later, in a 10-day burst of creativity, he wrote an entire album's worth of songs.
On July 6, 1994, just before midnight, Warren took the stage at New Jersey's famous Stone Pony for a three-hour extravaganza of material that included his own new music, some Frank Zappa songs and "Ordinary World," all done instrumentally in a hard rock trio style (with his brother on drums and ex-Kajagoogoo member Nick Beggs on bass). In August, he recorded his first solo album, "Th@nks 2 Fr@nk." The album was completely recorded in two days and mixed in three. A live version of the song "Thanks to Frank," from the Stone Pony show, was the finishing touch.
Continuing with Duran Duran, Warren booked solo shows in London whenever he could. Imago Records gave him a solo record deal, and the "Th@nks 2 Fr@nk" album was released in early 1996, followed by more solo shows, Internet chats and interviews. Another hard rock trio album, "Roadrage," mostly recorded live, was released in 1998. Warren's other three albums are completely different, showing his talents in ambient and world music: "Machine Language," "The Blue," and "Trance Formed."
In April 2004, Warren signed a recording contract with AAO Music's Reality label, a new entertainment company that has been signing artists with a history. His sixth solo album, some of which is being recorded in his house in Venice, CA, will also feature local singers, rappers and other special guests. "Enlighten Up" is scheduled for a fall 2004 release.
Warren and his fans
Warren came into Duran Duran at a huge disadvantage – replacing someone who was one of the "Fab Five," in a band that was beloved by its former teenage fan base. He endured years of being ignored by many of the fans, even when he was a full member and holding the band together. But 1993 brought the beginning of "Privacy: The Warren Cuccurullo Fan Club," along with a regularly published fanzine about him. On the 1993-94 tour, Warren made a lot of headway among Duran Duran fans by being accessible and friendly, and membership took off. In fall 1998, the fan club/fanzine was discontinued and replaced by a Privacy website, consisting of information and photos.
Once Warren left Duran Duran, his first project was taking over this fan-run website, buying a server for it and transitioning it into something commercial, high-tech and much more interactive. The new Privacy website is run by Warren and two fans, and offers all the information you could possibly want, plus mp3 and video downloads, online chats, a message board, a shop and most of all, Warren's uncensored self-expression and fan interaction.
While many might be shocked by some of Warren's activities, his fans aren't surprised or put off at all. It's part of what makes one a Warren fan ... not only an appreciation for his music and looks but also an attraction to his open-minded and experimental nature.
With Warren, there's always a new chapter being written. Expect the unexpected.
Cyndi Glass started Privacy: The Warren Cuccurullo Fan Club in 1993 and is now his fan liaison and co-admin of Privacy: The Official Site of Warren Cuccurullo
.