Ivy: A breath of fresh air for pop music
By Meghan Hogan
Aug. 25, 2005
I remember the first time I ever heard Ivy. I was watching a late-night episode of the now-defunct WB college drama "Felicity." While I can't profess great familiarity with the show, Felicity and Ben's longing gazes at each other became all the more meaningful to me because of Ivy's "I've Got a Feeling" playing in the background. In fact, I was humming the tune to that song for the whole next week or so. I finally went out and bought my first Ivy album and was pretty much hooked. For life, I think.
Of course, I got a rather late start on the Ivy-fan bandwagon. They had been around for eight years before I ever knew the New York City-based band – consisting of singer Dominique Durand and multi-instrumentalists Andy Chase and Adam Schlesinger – existed. The band ganged up in 1994 when Schlesinger replied to an ad placed in the Village Voice by Chase, seeking fellow musicians for a band. The two then met Durand, a native Parisian studying abroad in Manhattan. Schlesinger and Chase were still looking for a singer and convinced Durand to give it shot, despite her plans to return to France. With similar tastes in music, The Smiths and House of Love being some favorites, the three hit it off and Ivy was born. And chances are, even if you aren't acquainted with their music, you've probably heard them, as they've been featured in a number of commercials, TV shows ("Kingdom Hospital," "Roswell") and films ("Shallow Hal," "There's Something About Mary").
The band recently released its fifth full-length album this spring, a breath of fresh air for Ivy fans after a three-year wait. Just the title and artwork alone seem to accurately sum up the feel of "In the Clear" – free, clear, weightless. Musically, the band doesn't really break any new ground with their latest release; if anything, it sounds like a cross between their two previous albums of original material, "Apartment Life" and "Long Distance" – only the production is much smoother, no doubt a result of working with accomplished British producer Steve Osborne. Like the airplane window pictured on the album's cover, "In the Clear" has a very atmospheric sound to it. It opens invitingly with "Nothing but the Sky," a simple piano-based tune, before moving onto more fast-paced tracks. The songs on this album definitely have more of a beat to them, particularly "Keep Moving" and "Tess Don't Tell." The slower, melodic "Ocean City Girl" could easily fit on an earlier record, and the album ends on an upbeat note with "Feel So Free." "I feel so free, yeah, I feel alright/Never thought I'd feel like I feel tonight," Durand sings in a song about recovering from a troubled past. A lot of bands start to sound tired by the sixth release, but with "In the Clear," Ivy just sounds better than ever.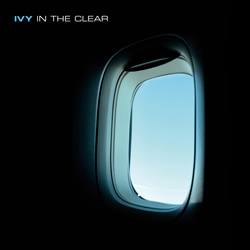 "In the Clear" is Ivy's fifth full-length release.
Photo courtesy of thebandivy.com.
But they've had over a decade to perfect their sound. Their debut EP, "Lately," came out in 1994. It's not very long, but its five sweet, melancholic songs are a good introduction to Ivy's ethereal sound. In "Wish it All Away," Durand reminds us of our mortality as she sings about dying spring flowers. And there's no holiday cheer in "I Hate December," a song about depression and suicide. The album also features a rendition of Orange Juice's "I Guess I'm Just a Little too Sensitive," which earned the band a spot as the opening act for former Orange Juice band member Edwyn Collins on his 1995 tour. Their Orange Juice cover attracted the attention of the alternative rock scene and must be a band favorite with its regular appearance on set lists, even 11 years later.
Less than a year later, the band followed up their debut with "Realistic," their first full-length album. With its sad melodies and songs of despair, the album is very much a more fleshed-out continuation of "Lately." The album starts out on an upbeat note with "Get Enough," a song about the crazy, calming effect of love. "Oh, I know, he can be a thorn in my side, but even so, I just can't get enough," Durand sings with her distinctive French accent. The catchy song got noticed right away by the UK's influential (and now nonexistent) Melody Maker, which named the song as its single of the week. One could get lost in the haunting guitar riffs of "Decay." "To know we die, makes life a lie," Durand sings to lazy guitar strums on the last track, "Over." Overall, the album, co-produced by sound guru Kurt Ralske, possesses a simple beauty that none of their later albums ever really touch upon in quite the same way.
Ivy released their third album, "Apartment Life," in 1997. Unlike the rawer, more acoustic previous albums, "Apartment Life," has a much more polished sound to it, as though the band had finally found their niche in the studio. It also has an energy not previously heard. With its summery feel, it's best listened to on a sunny July day, particularly "Get Out of the City," a song about escaping the traffic and heat. The album opens with "The Best Thing," a catchy tune with a dark edge, as the song's subject finds her release in substance abuse. Also notable is "I've Got a Feeling," which describes waiting for a true love. The album ends with "Back in Our Town," a wistful song about an unfulfilled relationship. "Back in our town, you were the only one who really knew me/Laughing out loud, we always knew you could see through me," Durand sings. Commercially, "Apartment Life" was not the success the band had hoped it would be, and Ivy was rudely reminded of that sad fact on the first day of their tour to promote it, when Atlantic dropped them after "The Best Thing" failed to attract much radio attention. The band unhappily continued the seven-week tour, and by the time it was done, they had signed on with another label – Sony.
Ivy returned to the studio in June 1999 with intentions of working on their fourth album. It wasn't quite that easy, though. First, a very pregnant Durand found she was in no condition for recording, and then the catastrophic happened – their studio, Stratosphere Sound, co-owned by Schlesinger, Chase and The Smashing Pumpkins' James Iha, burned down, and the lease was terminated. After the birth of Chase and Durand's daughter in July, the band decided to record the rest of "Long Distance" in Chase and Durand's apartment. But just as they were finishing in early 2000, as if to add insult to injury, Sony dropped the band while downsizing. Stuck with an album and no label, the band searched for one until, through some Atlantic connections, they got noticed and signed by a third major label, Nettwerk.
Ivy is (from left) Adam Schlesinger, Dominique Durand and Andy Chase.
Photo courtesy of thebandivy.com.
Despite the hurdles of creating it, "Long Distance" is a lush, summery album, quite different sounding from the ones before it. Produced by Chase and Schlesinger, the 13 songs all seem to have their own feel as if the band was having fun with experimentation and adding different sounds. Drums and trumpets, amongst other instruments, have a strong presence on the album, and Ivy brought in several guest musicians for help, including James Iha, Fountains of Wayne's Brian Young, and Paco's Michael Hampton. Although rather heavy on synthesizers, sampled sounds such as waves hitting a shore in "Midnight Sun" make the album work. The songs still manage to retain the moody undertones that seem to be an Ivy trademark. "Undertow" describes someone drowning, presumably in depression. In "Disappointed" and "While We're in Love," Durand sings of failed relationships. Although millions of people have heard the album's beach-like single, "Edge of the Ocean," featured on a cruise line commercial, perhaps its best track is "One More Last Kiss," a sad song about letting go. "We're only just what we're made of/I'm only sorry we can't have this chance again," Durand sings.
A year later, with other projects to work on and Durand pregnant again, Ivy released "Guestroom," an album of Ivy-ized cover tunes. Some might be put off by an entire album of other people's music, but thanks to the band's good taste in music and their ability to make a song their own, the album is worth every penny. In addition to "I Guess I'm Just a Little Too Sensitive" from the "Lately" EP and "Digging Your Scene," which was a bonus track on "Long Distance," the album features a variety of genres and musical styles. There's a bit of the '60s with a slower version of the Ronettes' "Be My Baby," listeners can hear Durand singing in her native tongue on a cover of Serge Gainsbourg's "L'Anamour," and hints of the band's British rock influences shine through with covers of the Cure's "Let's Go to Bed" and House of Love's "I Don't Know Why I Love You." Also noteworthy is an airy rendition of Steely Dan's "Only a Fool Would Say That." The compilation works not only as an excellent album but also a clear reflection of where Ivy's musical inspiration comes from.
Despite the three-year break between Ivy's latest albums, it doesn't mean the trio hasn't been busy. Guitarist and songwriting genius Schlesinger has found more mainstream success with his other band, Grammy-nominated Fountains of Wayne, which he's been a part of almost as long as Ivy has been around. In addition, he's penned songs for numerous films such as "That Thing You Do," "Me, Myself and Irene" and more recently "Because of Winn Dixie." Durand and Chase, now a married couple with two children, have also directed their talent elsewhere. Chase, already an experienced producer, has his own band, Brookville, featuring delightful, dreamy pop. Chase and Durand also have another musical outlet in Paco, a collaboration with friends Michael Hampton and Gary Maurer. Ivy's extensive discography includes several compilations, and all three members have worked with other artists on their own albums.
Over the years, the band has managed to attract to a loyal fan base, amongst which a common question is "Why aren't they more popular?" With "In the Clear" they have garnered more media support than with past albums, and their music is truly catchy, radio-friendly stuff. It's hard to describe why Ivy's music is great, and while they are categorized as pop, the word doesn't really do them any justice. It's like looking through the airplane window at the sky – it's beautiful, it's blue and it's right next to you, but you can't touch it. Except, somehow, through their music, Ivy has touched it. Why we don't get the pleasure of listening to them on the car radio is just a small fragment of the greater mystery as to why there isn't any good music on the airwaves.
So to many fans, Ivy's escaping the infamy of the Top 40 lists might be viewed as a blessing rather than a failure. Perhaps Ivy explains it best with their own description of their music: "Pop without that bitter after-taste," an after-taste which seems to plague most of what's aired on commercial radio these days. Over the past decade, the band has also remained much the same as it began. While their music today naturally has an older, more mature sound than it did 11 years ago, Ivy has remained true to their musical roots in a way that many bands, such as the Cranberries (a band they are sometimes compared with), haven't.
So what's next for Ivy? It's hard to say. The band is almost at the top of its game in the alternative rock world and, having just wrapped up a U.S. tour, is seemingly happy to be there. Hopefully we'll get a seventh album.
Meghan Hogan is a recent graduate of the University of Memphis and is currently interning at Preservation magazine.