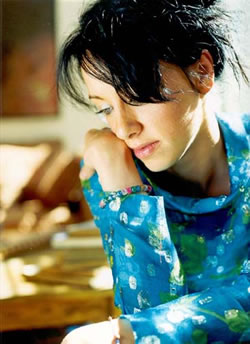 Harland. Photo by Clay Stang.
Harland: The journey to 'Salt Box Lane' and beyond
By Denise Roup
May 27, 2004
Have you heard Harland? If you haven't already, you soon will. The angelic voice of Shelley Harland, also known as Harland, is being featured on quite a few albums this year, and her programming mastery is being noticed as well. In March 2004, I was lucky enough to get to spend some time with Shelley and learn a bit more about her. The story of how she got to where she is today is an interesting one, and not what you might expect.
Growing up in Catheram Surrey, England, Shelley was exposed to electronica and the London music scene, but she had never seriously thought of becoming a musician herself. In 1997, fresh out of school and just starting her own business, Shelley was well on her way to becoming a successful beauty therapist. When she met and fell in love with singer/songwriter James Wright that year, things changed dramatically. Until that point, Shelley had never known anyone who played a musical instrument and had no idea that she could sing.
"I really could not imagine singing in front of anybody. The thought horrified me. I knew that I really wanted to try something, inside, but it was just about conjuring up the courage to do it."
James heard Shelley singing around the house and tried to convince her to give singing a chance. She found the courage to answer an ad in the paper for a backup singer. Shelley describes how she felt the day of the auditions:
"I was absolutely terrified, I was crying, I literally thought 'What am I doing? I can't do this! This is ridiculous! Who do I think I am?' "
But she walked in and got the job on the spot. She came out elated, and in disbelief. She decided not to join the band, but the audition got her confidence rolling. Next she tried her voice out in a few karaoke competitions.
"It sounds really cheesy. ... I won the karaoke competitions and I started to actually believe that I was OK at singing."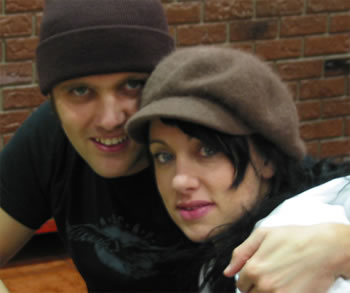 James Wright and Shelley Harland, March 2004. Photo by Denise Roup.
When James' band got a record deal in 1997, he and Shelley moved to New York City. There she was, surrounded by musicians. James gave Shelley a four-track recorder, and she started experimenting with music on her own. Finally, the music she was hearing in her head could be laid out and played around with.
She and Andrew Wright, a producer and programmer in Australia – and James' brother – started mailing ideas back and forth. Before they knew it, they had enough songs for an album. In 1999 she flew to Australia, and together Shelley and Andrew produced 13 songs in one month for the album "Phoelar." Shelley realized what she had the ability and desire to do: programming. As soon as she got back from Australia she bought a sampler. "I was hooked" she says.
Shelley spent a good part of 2002 and 2003 recording and producing her debut solo album, "Salt Box Lane." She joined Kristy Thirsk and Delerium on their first tour, and wrote "Above the Clouds," an exclusive iTunes track for Delerium's "Chimera."
2004 is shaping up to be a big year for Harland as well. ACIDplanet.com recently featured Harland's "In the Dark" – from "Salt Box Lane" – for its remix contest, making her the first independent artist to be featured in a remix contest at ACIDplanet (past contests have included such artists as Depeche Mode, Venus Hum, Madonna and Lenny Kravitz).
The response to the Harland contest was overwhelming, with 866 entries, making her one of the most remixed artists in ACIDplanet history. As of this writing, Harland was working her way through the entries to pick a winner. It was important to her to listen to each song and to give each contestant a chance: "I'd hate if I entered a remix contest and they never listened to it."

Denise Roup is an independent artist specializing in unique handmade items. Her work can be found at www.fillyfolly.com.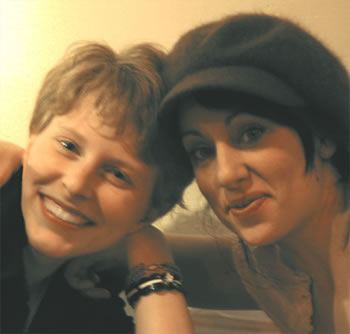 Denise Roup with Shelley Harland, March 2004. Photo by Leslie Brier.
Harland discography:
Phoelar – "Phoelar," featuring Harland and Andrew Wright.
Joshua Ryan – "Buildings In Between," written by Joshua Ryan and Harland. Performed by Harland. Featured on the album "By Design."
Junkie XL – "Rivers," written by Junkie XL and Harland. Performed by Harland. Featured on the album "A Broadcast from the Computer Hell Cabin."
DJ Rap – "Music in Me," written by DJ Rap and Harland. Performed by Harland. Featured on the album "Touching Bass."
Delerium & Harland – www.iTunes.com exclusive track, "Above the Clouds."
Harland – "Salt Box Lane" (first solo album)
Ferry Corsten – "Holding On" and "SkinDeep," written by Ferry Corsten and Harland. Performed by Harland. Featured on the album "Right of Way."
Rio Klein – "Fearless," written by Rio Klein and Harland. Performed by Harland.
John Cale (Velvet Underground) – "Over Her Head," programmed by Harland. Featured on the album "Hobo Sapiens."
Upcoming projects include:
Pole Folder – two songs featuring Harland on his forthcoming album from Bedrock.
Pillofite – collaborative project with vocalist Kristy Thirsk.
Silent Alarm – collaborative project with drummer Adrian White.
Josh Abraham – song featuring Harland on his upcoming album.
Blue Room Project – collaboration
Men in Blue – "Meet Me in NY"
Harland – Second solo album