YouthQuake magazine: FRONT PAGE | MUSIC | FILM | AUTHORS | ACTORS | MODELS | ABOUT
---
From DJ to Lauren Hynde: the story of an indie actress
By Jessica Clark
May 27, 2004
In 2001, TV viewers were introduced to Shannyn Sossamon in the hard-to-forget commercial for Gap Denim. "My first love, boys who scratch" were the words that came out of her mouth, ironically paralleling how she would be making viewers feel: Our first love, girls who scratch.
Shannyn had been a DJ for quite some time, working clubs for 50 bucks, enjoying the party scene, the clubs, the city of Los Angeles and the life. But everything wasn't always music and Hollywood partying for Shannyn.
She was born in Hawaii, raised in Reno, Nev., and moved to Los Angeles in 1996 to study dance. Although she was a natural at "jazz, crazy modern and hip-hop" dancing, she did many commercials (Kmart, Kodak, Oldsmobile, Pepsi), modeled (Pirelli Calendar, Mervyn's department store, American Eagle, UnionBay, Sassy Magazine) and appeared in music videos (Mick Jagger, Korn, DJ Quik, Cher, The Goo Goo Dolls, and two for Daft Punk), which later helped lauch her blockbuster and indie acting career.
Shannyn's stunning mix of Hawaiian, Dutch, French, Filipino, German and Irish heritage gives her a unique look in today's world of cookie-cutter celebrities.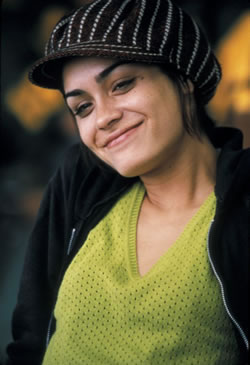 Shannyn Sossamon in "The Rules of Attraction"
In "A Knight's Tale," "40 Days and 40 Nights," "The Order" and "Wholey Moses," she was cast as the typical beautiful aim of love. It wasn't until director Roger Avary cast her as Lauren Hynde in 2002's "The Rules of Attraction" that Shannyn got to break out of that mold and show the full range of her acting skills.
Shannyn was sent the script, and felt there was something very different about it. When she met with Avary, the two got along from the start. They sat and spoke about life, and Avary realized she was perfect for the part.
During filming, her castmates felt like she was very spontaneous and natural, and to some that made her stand out in the crowd of up-and-coming celebrities such as James Van Der Beek and Jessica Biel.
The role of Lauren Hynde changed her life. It was something different, something she had never done before. Lauren Hynde was a drug-using, sometimes-empty, numb, fresh college girl. In "Rules," Shannyn stunned her audience with a rape scene, sniffing cocaine and pulling her dead best friend (and real-life roommate, Theresa Wayman) out of a blood-filled bathtub.
Currently, Shannyn is working on a project in New York City, taking care of her new baby boy, Audio Science, and getting use to the oddity that is fame.
Even if Shannyn labels herself just a "film doll," she can justly be called a real actress.

Jessica Clark is a full-time film student at a community college, with hopes to transfer to CalARTS. She is interested in editing, animal rights and graphic design. She runs The Shannyn Fansite and met Shannyn at a screening for "Wholey Moses." Contact her at Jess_84@Comcast.net. Visit her at 84.vze.com.
---
Related links:
Shannyn Sossamon Online — the biggest collection of images and articles
The Shannyn Fansite — up-to-date news, wallpapers, fan art, filmography and more
Shannyn Sossamon's filmography @ IMDb
Shannyn's fan mail address:
Shannyn Sossamon
P.O. Box 741519
Los Angeles, CA 90004
---